Summit Radiology & Imaging
Crystal Clear Internal Imaging
At Summit Medical Center, we know that the clearer picture we can achieve of internal diseases, disorders and injuries, the better we can treat them.
That's why we've assembled a cutting edge, high-tech radiology and imaging department with some of the most advanced capabilities in the state, including CT, MRI, Ultrasound, and even moving, video-like X-Rays – all in an easy-to-access, friendly and convenient environment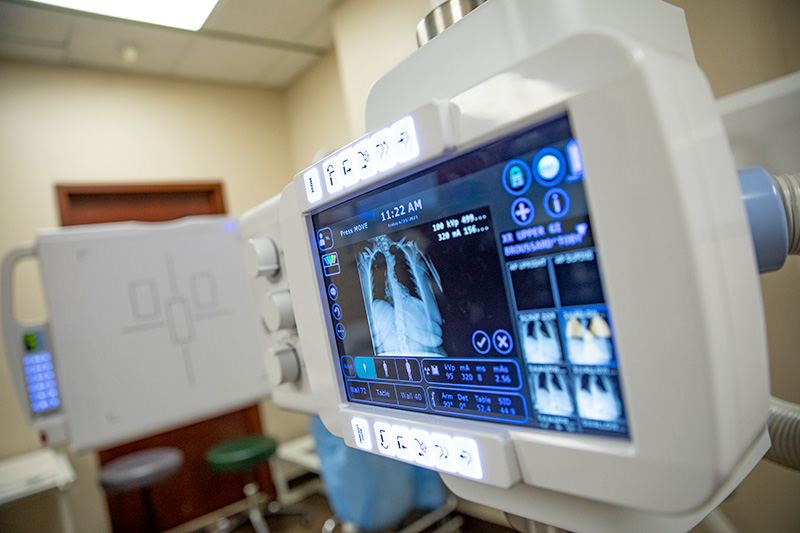 Computed tomography or CT scanners use a rotating X-ray tube and a row of detectors placed in a gantry to create a visualization of different tissues inside the body. At Summit, CT scans are conducted by highly trained radiologists and imaging technologists who tailor each exam to your specific needs and diagnosis. We use the most advanced technology and equipment to obtain high-quality imaging in a convenient suburban location.
Summit's CT Scan Services
Abdomen and Pelvis
Body
Chest
Head
Sinuses
Spine
Cardiac Calcium Scoring
Lung Screening
Magnetic resonance imaging, or MRI, uses high-powered magnets and radio waves to produce images of organs and structures inside the body. The MRI scanner is shaped like a large donut with a hole in the middle. This is where the patient lies during the exam. Since the image quality is best in the center of the magnet, the area needing examination will be placed at the center. For most MRI exams, you may eat, drink and take medications as usual. Just be sure to alert staff to any metal components or possibility of metal in your body.
Abdomen
Pelvis
MR Angiography (MRA)
Head
Sinuses
Spine
Extremities: Bones, Joints and Soft Tissues
An ultrasound, also called a sonogram, uses sound waves to produce images of soft tissues inside the body. Sound waves move through the body are translated into images on a computer based on their frequency. Ultrasound is also used for a tissue or fluid biopsy.
Summit's Ultrasound Services
Abdominal
Gall bladder, Liver and Pancreas
Pelvis
Renal Artery Doppler/Duplex
Renal and Bladder
Renal
Transvaginal
Summit's X-ray machine uses a small dose of radiation to produce images of structures inside the body. The X-rays pass through the area of the body being examined and are translated into images captured on the other side of the body.
Dynamic Digital Radiography (DDR)
Konica Minolta's Dynamic Digital Radiography (DDR) is an FDA cleared, award-winning enhanced X-ray technology that provides a series of individual digital images acquired at high speed and low radiation dose. This essentially creates an X-ray video (or cine loop), allowing physicians to observe the motion of anatomical structures and fully visualize disease processes, disorders or injuries for more accurate diagnosis and treatment planning.
In less than a minute, DDR gives physicians up to 20 seconds of physiological movement with one simple acquisition – using less radiation than an average fluoroscopy exam.
Summit Medical Center has brought together Oklahoma's premier collection of surgeons and specialists, providing cutting-edge care for a wide variety of diseases and disorders, from general surgery and pain management to ophthalmology and orthopedics.
As a physician-owned, licensed acute care hospital, Summit is empowered to provide a level of personal care most other hospitals simply can't match. Learn more.
Summit only allows hand-selected, top physicians with records of exceptional outcomes to operate in our facility.
Summit offers several locations across the Oklahoma City metro for our surgeries and treatments.
Say goodbye to burnout. When healthcare professionals join the Summit Medical Center team, they tend to stay. Find out why.